Last week's episode of Top Chef was an Olympic theme. I, too, am old enough to remember when we were supposed to have the Olympic games. Melissa won a blindfolded dessert Quickfire challenge, and Stephanie took home the elimination challenge and tickets to the Olympics with an ingenious dessert. Karen was eliminated for a duck dish, and could not pull through in Last Chance Kitchen. Kevin Gillespie, came back in Last Chance Kitchen and re-entered the competition.
Knives Packed
Karen Akunowicz – Although the name Karen became a meme online during this season, Karen bucked the trend. A terrific chef and take no prisoners competitor, she was told to pack her knives and go for a second time this season. She was sent to Last Chance Kitchen once and came out on the other side. Now, she has been sent home again for a good dish. It is disappointing to see her go, as I was rooting for her. Kevin beating her in Last Chance Kitchen is not necessarily surprising, but it still hurts to see her go. It is sad, but I am glad someone on TV could be the Karen we need in our world. Good work Karen! Where she's from they call her chef too!
Power Rankings
6. Brian Malarkey
I am amazed that Malarkey has managed to make it this far, but he also deserves some credit. He has been able to use his front of house and business skills to make his way further than we expected, but he may be running out of tricks. He did not have a bad week, but it certainly could have gone better. He has only been on the winning end in Restaurant Wars, and has been in the bottom five times, including two weeks in a row. He is the wild card remaining, so it is not impossible that he can come back. I think this next week could be his last.
5. Stephanie Cmar
Stephanie had a huge week. It started at the beginning of the episode with a story about her brother. It was fan favorite material, and she cried through it with Gregory. While that kind of foreshadowing can go both ways, thankfully it went positively. In the blindfolded part of the elimination challenge, she was able to sniff and correctly guess the most ingredients. Even though she did not win, she absolutely killed it in the elimination challenge. Their challenge was to make a Kaiseki meal, and she made a panna cotta inside of a lemon. Did someone say "Chef's kiss?" Kaiseki is abut simplicity and emphasis on nature. It is hard to nail the challenge as well as Stephanie.
So why is she so far back? Mainly because she has struggled throughout the competition. This week was her first elimination challenge win, and she has only won one other Quickfire. While she certainly has the capability to challenge for the Top spot, she still looks to be on the outside looking in.
4. Kevin Gillespie
We all knew Kevin would be back. After being in top 3 for most of the competition, he slipped up during Restaurant wars for making questionable decisions while running his restaurant. Those questionable decisions and weeks in Last Chance Kitchen are keeping him out of the top 3 for now, but I think Kevin should pick up right where he left off. Kevin is one of the strongest in the competition, and I think he is going to be dangerous as the competition continues.
3. Bryan Voltaggio
Daddy Bry is starting to find his groove. He moved through the middle for most of this season, but he has started to slowly pick it up. Elimination challenge win last week, and in the top again this week with a nice Kaiseki appetizer. Bryan has the chops for this competition. The question is whether he can beat out those around him.
2. Melissa King
Melissa is truly the Ned Stark of this competition. After winning the Quickfire she was given a huge advantage: she could pick not only the course she would be serving in a Kaiseki six-course meal, but what everyone else was responsible for. Instead of using this to her advantage, she gave everyone what they wanted. She went onto explain that she believed she wanted everyone to serve their best meal and that everyone could be judged fairly she would be okay with going home. This came after last week in the campfire challenge where she let everyone else stomp all over her for ingredients while she just took what was remaining and made a bad salad.
Melissa is one of the most talented chefs in the competition. She might even be the most talented this season. She is going to need to play the game if she wants to win. To quote Herm Edwards, "you play to win the game!" So play it! It comes with the territory.
Gregory Gourdet
Greg had a rough week, but even his bad days are my good days. He continues to be the best in the competition, and is still a lock for me to make it to finale.I just want his jacket. Is that too much to ask?
Best Padma Look
Top to bottom Denim look. I am into it.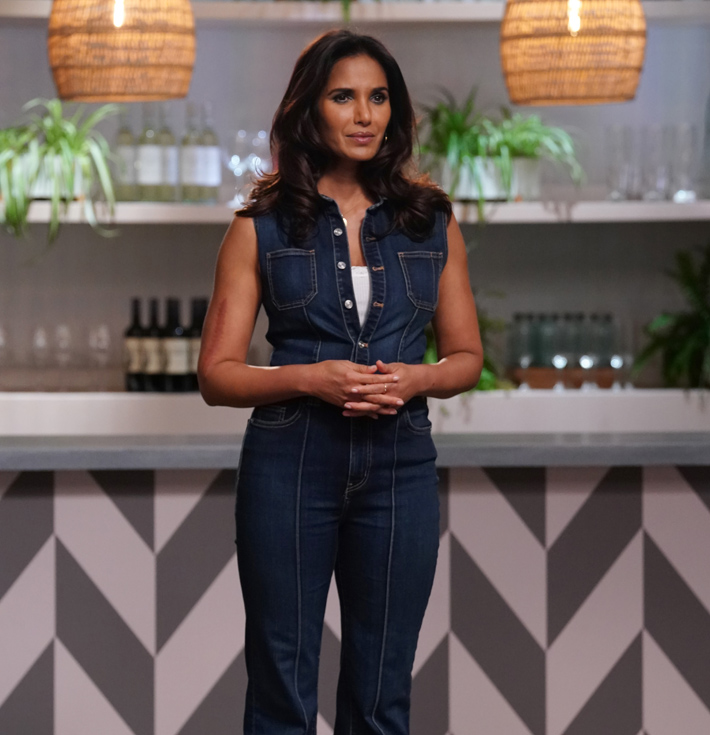 Fan Favorite Moment
Stephanie talking about her brother. To see her genuinely shaken by it in the morning and then killing both challenges after that. Just unreal. My pick at the moment.